Hotel Introduction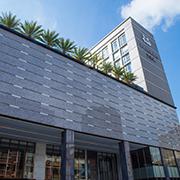 Fleurlis Hotel is a unique complex of wedding planning,photography, catering, and room accommodations.In addition to the delicately designed guest rooms and convenient location, we provides 7 distinctive restaurants and high-quality conference venues to make Fleurlis your best choice in Hsinchu. Fleurlis hotel sited in the heart of Hsinchu City, Big City Shopping Mall and Hsinchu Train Station are just a few minutes' walk away, and only a 15 minute drive to the interchange and Hsinchu Science Park. And it is also close to many popular scenic spots like Neiwan, Kuanhsi and Beipu, its convenient central traffic location has become the first choice for those on holidays, tours or on business in the Hsinchu area!
Tel:886 3-6238899
Hotel Address:o.69,Minzu Rd.,Hsinchu City 300, Taiwan
Room Introduction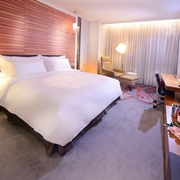 Our 72 spacious and finely designed rooms are all equipped with 42" LED TVs, worldwide satelite TV channels, high-speed internet access, exquisite bath amenities, electronic bidet toilets, and etc.Fleurlis'comfortable rooms, cozy spaces, and heartwrming services will make you feel like home.
Restaurants
1F/ Recipe HouseRecipe House provides various buffet menus featuring oriental, western and Japanese cuisines.1F / OCEAN BAROcean Bar is fashion style bar. All types of soft drinks, liquors, wines, cocktails and cuisines are offered.1F / Fleurlis BakeryFleurlis bakery serves healthy and freshly bakery every day! The shop has a variety of choices to satisfy your delicate taste.5F / Xuan Oriental CuisineXuan oriental cuisine is a restaurant featuring chou-tzo and cantonese cuisines.We offer fine cuisine and excellent service.
Peripheral Scenes
A.City:Big City/The east gate/Cheng Huang TempleB.Sea:17 km Coastline Scenic AreaC.Mountain:Neiwan/BeipuD.Theme :Leofoo Village Theme Park/Window On China Theme Park
Directions
Fleurlis is located in the heart of the city.The hotel is close to "Big City" mall、HsinchuScience Park、Hsinchu interchange ,and just five minute walk from Hsinchu station.